Latest Information Page
---
My thanks to all who have sent information to me.
---
An early Theaker reference from http://members.tripod.com/~midgley/newtonhood.html :
8th November 1331 at Wakefield:-
Robert Hood for dry wood. [Appears with William Theaker's daughter, John de Langley's handmaid, Beatrice Bul and Henry de Tropinel 2d each]
---
There were 3 Theaker veterans of the American Civil War - all fought for the Union side.
---
Defence of Hong Kong, December 1941
Royal Army Service Corps (RASC)
12 Hong Kong Company

14 Officers 183 Men [89]

12th Company at Happy Valley
Sergeant Fred Charles Theaker
---
Farmington Cemetary, Farmington, Belmont County, Ohio
Theaker, Anna G. 1853-1933 m. George A.P. Theaker
Theaker, George A. P. 1851-1919 m. Anna G.
Theaker, J. Mansell 29 Jan 1915---15 Jan 1997 m. Sara E.
Theaker, John 22 Mar 1824---4 May 1891 m. Agnes Parks
Theaker, John Clarence 13-Oct-40 s/o Mansell/Sara Theaker INFANT SON OF J. C. THEAKER DIED AGE 1 DAY
Theaker, John G. 1883-1962 m. Mary Walker
Theaker, Parks A. 1886-1887 Same plot as Geo/Anna Theaker
Theaker, Sara E. 29 Dec 1917--- m. J. Mansell Theaker
---
Basford, St Leodegarius - In July 1625 Grace Coates of Basforde was cited for teaching children without a licence. (Much later, in 1748, Mrs Theaker was accused of the same but also with not teaching the children their catechism as she ought.)
---
Queens Birthday Honours 2001
John Henry Theaker received a MBE for services to Scottish Natural Heritage. (Biggar, Lanarkshire)
---
Cheboygan County, Michigan Obituaries - 2000
Frieda M. Theaker, 90 of Wolverine, died Sunday, July 30 at her home.
Her funeral was at 2 p.m., Wednesday, Aug. 2 at Wolverine Baptist Church, Rev. Pastor Orville Theaker officiated and burial was at Silver Lake Cemetery, Wolverine, MI.
The family suggests memorials to Wolverine Baptist Church.
Lintz Funeral Home in Indian River handled the arrangements.
---
Entries for Roselawn Cem., Shiawassee County, Michigan
THEAKER - Charles E. - - - 1891 --- 1970 (section E - row 2 )
THEAKER - Cora E. - - - 1887 --- 1966 (section E - row 2 )
THEAKER - Emma A. - - - 1863 --- 1932 (section E - row 2 )
THEAKER - Frank E. - - - 1884 --- 1951 (section E - row 2 )
THEAKER - Laura A. - - - 1902 --- 1967 (section E - row 2 )
THEAKER - William E. - - - 1858 --- 1929 (section E - row 2 )
---
The war time memories of one Gordon Theaker can be found here: http://www.royalnavyresearcharchive.org.uk/MONABS/REM_Theaker.html . Gordon must have been in Ceylon at the same time as my late cousin (2nd once removed) Douglas Theaker.
---
The inaugural meeting of the British Isles Bee Breeders' Association was held on July 27th 1963 at the apiary of Terence Theaker, Leadenham, Lincolnshire.
---
In March 1993 Anne M. M Theaker married one Gerald Francis Bending at Torbay.
---
Theaker obituary notice from the archives of the North County Times:
Karl Theaker, 93

VALLEY CENTER - Karl Farewell Theaker, 93, died Friday, June 27, 2003, at his home.

Born Aug. 1, 1909, in Battle Creek, Mich., he lived in Valley Center for 46 years. He retired in 1970 as an engineer for Douglas and Hughes Aircraft. He played professional baseball with the Detroit Tigers AAA League in the 1920s.

Mr. Theaker is survived by his wife of 24 years, Lynne Wilson Theaker of Valley Center; stepsons and daughters-in-law David and Sara Wilson of Oceanside and Jeffrey and Elaine Wilson of San Diego; daughter Betty Gorang of Oakland, Mich.; stepdaughter and son-in-law Linda and Bruce Hagen of Sebastapol; grandchildren Jennifer, Emily and Destiny Wilson; and numerous great-grandchildren.

A celebration of life will be held at a later date. Private cremation is planned.

The family suggests donations to Elizabeth Hospice, 150 W. Crest St., Escondido, CA 92025.

The Neptune Society is handling arrangements.
---
A Miss Emma Theaker was the first telephone operator in Arkansas City in 1883.
---
In the Arkansas City Traveler, September 14, 1881 it was reported that;

The school term commenced on Monday last with an attendance of 202 scholars divided into the following rooms:

C. T. Atkinson 48

Miss Peterson 47

Miss Hunt 46

Miss Theaker 61
---
In the Arkansas City Traveler, October 12, 1881 it was reported that;

Report of senior department of Arkansas City High School, for first month, of those who did not communicate without permission, and whose absences and tardiness were excused.

Charley Randall, James Robinson, Frank Theaker, Frank Barnett, Horace Vaughn, Jessie Norton, Jessie Finley, Cora French, Lula Walton, Ella Mann, Alto Maxwell, Flora Gould, Hattie Hand, George Beech, Mollie Christian, Etta Barnett.

INTERMEDIATE DEPARTMENT. The following were neither absent nor tardy during the past month.

Hattie Franey, Annie Speers, Archie Coombs, Ella Hoyt, Emma Redden, Sarah Hill, Arthur Coombs, Johnnie Garris, Nettie Johnson, Libbie Fouke.

JENNIE PETERSON, teacher.
---
An Eva Theaker entry is in the Saginaw directory 1923.

A Mary E L Theaker entry is in the Seattle directory 1923
---
A G. Theaker served aboard the battleship New Jersey which was part of the the Great White Fleet which sailed around the world 1907-1909.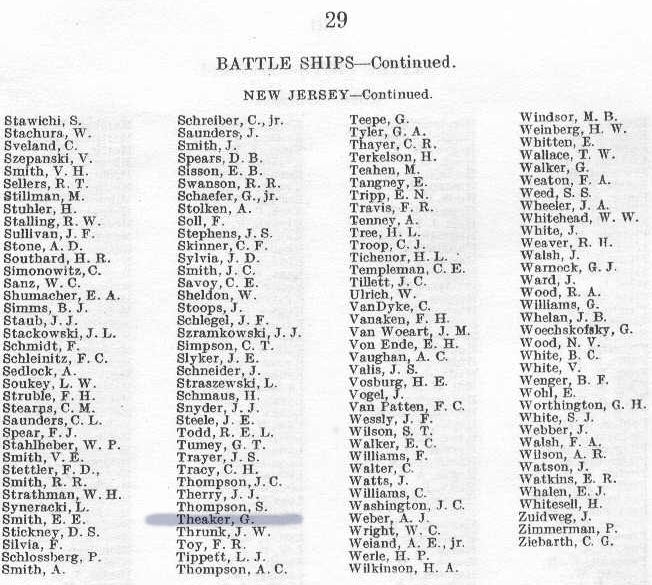 ---
Peter Roberts sent the following:
My friend was searching the burial register of St
Giles, Pontefract for his ancestors and knowing my
interest in Theakers also found these:
18 May 1788 burial of Thomas, son of Mary Theaker
25 Oct 1812 burial of Ann, widow of Henry Theaker
21 April 1819 burial of Thomas Theaker, Private in the
Royal Horse Artillery age 27
The search was from 1777 to 1827.

---
Roy Stringer is searching for a Mary THEAKER Birth Date unknown, Burial Date 27 Jul 1819 Belton. Married Timothy WALKER of Belton 27 Nov 1758 at Belton. 12 Children.
Anything known about Mary's ancestors?
---
Vicki Theaker sent the following Sheffield census extract. Vicki has been kind enough to send many such extracts which I will post in due course:

1871 Census RG10/4662 page 92
Court 2,3 , Portland Street, Nether Hallam, Sheffield
Thomas THEAKER head 42 horse keeper born Notts, Barnby Moor,
Fanny wife 41 born Notts, Tuxford
John T son 18 born Sheffield
Richard son 16 do
Everit son 14 do
James son 5 do
William son 4 do
---
Eric Gelling writes:
These are two of my top items from the Leadenham group that I'm still looking for:

1. Thomas Theaker, eldest child of John Theaker and Jane (Puttergill), bapt 5 Oct 1792 in Leadenham. Nothing more known. He may have died early but there is no indication of that. Does anybody have a loose "Thomas" that might be him? His next brother John (my ancestor) was of "Glayston Rutland" when he married in 1818, so perhaps Thomas was in those parts too.

2. George Theaker, youngest (#17) child of John Theaker and Jane (Puttergill), bapt 20 Nov 1818 in Leadenham. In 1841 he is age "20", servant, living with his brother William in Leadenham. In 1851 he is age 35 in Wellingore, servant, unmarried, living with his brother-in-law and sister William and Frances Bemrose. Nothing more known.

From North Collingham:

1. Hannah Theaker (nee Black) was widowed in 1783 with a young family. Her youngest child George was buried soon after and she is described as a "pauper". She'd be in her 30's. Some of her family ended up in places such as Leadenham Lincs, Bassingham Lincs, Clauston Notts and Carleton le Moorland Lincs, all quite closeby. What happened to Hannah? Poor Laws might have something. Could the marriage of Hannah THACKER widow to Anthony BURRILL 16 Nov 1815 at Lincoln St Swithin be her? If so, she'd be in her 60s at least.

2. Of Thomas and Hannah's 7 children bapt 1765 to 1783, 5 have been found. Elizabeth bapt 1775 and Mary bapt 1780 haven't been accounted for. Could the Mary THEAKER who married John SMITH 1809 at South Hykeham fit here?

3. Thomas Theaker (died 1766) and Elizabeth (died 1783) are the earliest known ancestors, and are the parents of the above Thomas who married Hannah. Looking for marriage and to identify Elizabeth. Known children Elizabeth (1736-1761), Mary (1738) and Thomas (1740-1783). Possibly also Mary bapt 1741 dau of William Theaker and Elizabeth, if the first Mary died and this "William" should be "Thomas".. A Mary Theaker married John MAPLESTON in 1778 in N. Collingham, had one child Mary in 1780 (nothing more known), and they moved to Lincoln where John died in 1791. A Mary Mapleston married David THOMPSON in 1792 at St Martins, Linc; perhaps she is the widow Mary.. Is there a burial of Mary THOMPSON after 1792 with an age that could match ca 1741?

4. There's a marriage in North Collingham of Joseph Theaker and Mary Hochkins (?) 1753. Could Joseph be an earlier son of the above Thomas & Elizabeth?
---
http://www.lincolnshirepast.org.uk/publications/slha_magazine.htm
Tamar Theaker by Chrysanthe J Marriott
The story of a spinster born in Epworth and housekeeper for 30 years of an unmarried cousin, Joseph Garratt, in Coleby near Lincoln. Remarkably at the age of 74 she survived a mastectomy and died 12 years later in 1859 from "debility of old age".
Following up on Tamar Theaker from Eric Gelling:
A couple of years ago I acquired the death cert for Tamar, which I've attached. In summary, it says she died 21 May 1859 at Coleby age 86 years, Farmer (Owner & Occupier). Informant was Samuel Newton in attandance Coleby.
She most likely belongs to the Chard Somerset and Gringley-on-the Hill Notts group. On the IGI, there is a baptism of "Tamor THACKER" 13 Sept 1773 Epworth Linc d of Thomas THACKER & Ann. The IGI has a fairly long list of Theakers and Thackers from Epworth going back to the 1500s, though there seems to be a huge gap in the 1600s and early 1700s. I didn't look any further to see if there is a GARRATT connection. Perhaps Graham and June have done more on this.
She also appears in the "Lincolnshire History, Gazetteer, and Directory 1856 - History of Boston - Boothby-Graffo-Wapentake" listed as a Farmer of Coleby. Amongst others are also John Garratt and Wm Garratt. See pages 6-7 (of 20) of this document (from Ancestry.com). In the intro on Coleby it says it is "a small village 7 miles S of Lincoln" and it also has this sentence: "The poor have two yearly rent-charges, viz, 5 pounds out of Sir CR Tempest's estate, left by Mary Lister in 1731; and 1 pound out of Mrs. Theaker's farm left by Joseph Garratt in 1833".
Eric was kind enough to sent me a scan of her death certificate which I am sure he won't mind me passing on to anyone interested.
Following up on Tamar from Roy Stringer:
Tamar THEAKER caused me quite a bit of trouble when I came across her because the I of A transcript for Epworth Baptisms had her down as a Male called Thomas THAKER and The IGI had her down as a Female Tamor THAKER. I believe it was Eddie and Isobel PULLAN that put me on the right tracks. I could not make any sense of it because the parents of Tamar (the youngest child) already had a son Thomas (the eldest child) who produced a child called Thamer (1783) after Tamar was Christened (1773)
---
http://members.lycos.co.uk/Carole_Clyde/newpage3.html
Strays in Lincolnshire T-Y
Yorkshire born folk found in Lincolnshire
on census night 1881 cont., T-Y
THEAKER Bertha T. 1860 Ranskill Sudbrooke
THEAKER Betsey 1857 Thorpe Willoughby Scunthorpe
THEAKER Elizabeth 1859 Howden Ashby
THEAKER Fanny 1855 Newbridge Ashby
THEAKER Lucy 1825 Wadsworth West Butterwick With Kelfield
THEAKER Margaret 1833 Eastoft Eastoft

---
YORKSHIRE: Paver's Marriage Licenses for the year 1624.
http://www.genuki.org.uk/big/eng/YKS/Misc/Transcriptions/YKS/Pavers1624.html
1624 Theaker William of Runswick Pursloy (Pursglove?) Dorothy of Lythe (to be married in) Lythe.

---
Death Notices in Yorkshire Newspapers
http://homepage.ntlworld.com/jeffery.knaggs/YD.html

Slingsby, Robert Theaker - 21 Mar 1901 - 46 - Bloomsbury Hotel, Crookesmoor Road, Sheffield - Sheffield Daily Telegraph
Theaker, Frank - 12 Dec 1902 - 37 - Staithes - Whitby Gazette
Theaker, Harriet - 9 Feb 1901 - 14 months - Monk Street, Rotherham - Eckington, Woodhouse & Staveley Express
Theaker, John - 6 Feb 1900 - 80 - Staithes - Whitby Gazette
Theaker, Mary - 31 Jan 1901 - 76 - Zoar Street, Morley - Dewsbury Reporter, Morley Observer
Theaker, Mary Ann - 16 Mar 1901 - 4 months - Duckel's Buildings, Goole - Goole Times
Theaker, Matthew - 24 Jan 1899 - (0) - Staithes - Whitby Gazette
Theaker, Thomas - 1 Mar 1901 - 44 - Moorends, Thorne - Doncaster Gazette
Theaker, William Brown - 29 Aug 1901 - ? = The Hospital, Alexandria - Whitby Gazette
Weatherill, Edward Theaker - 14 May 1905 - 85 - Staithes - Whitby Gazette
---
http://www.charliespage.co.uk/1252.html

Pigots 1830 Nottinghamshire:
THEAKER & BIRKHEAD
RUTLAND STREET
LACE MANUFACTURER
THEAKER JOSEPH
PLUM STREET
UMBRELLA MAKER

Hodsons 1814 Nottingham:
THEAKER ISAAC GROCER TRUMPET STREET

1754 Nottingham Poll Book:
http://www.charliespage.co.uk/pollbookindex.htm for details of candidates etc.
THEAKER BENJAMIN GENTLEMAN BASSFORD H
---
Last I heard Roy Stringer was looking for:
Roy Stringer is looking for the following:
Searching for a Mary THEAKER Birth Date unknown, Burial Date 27 Jul 1819 Belton. Married Timothy WALKER of Belton 27 Nov 1758 at Belton. 12 Children.
Anything known about Mary's ancestors?
Email steve@theaker.info and I will pass any info on.
---
Vicki Theaker sent the following:
1871 Census RG10/4662 page 92

Court 2,3 , Portland Street, Nether Hallam, Sheffield

Thomas THEAKER head 42 horse keeper born Notts, Barnby Moor,
Fanny wife 41 born Notts, Tuxford
John T son 18 born Sheffield
Richard son 16 do
Everit son 14 do
James son 5 do
William son 4 do

---
A non Theaker contact sent me the following:
My interest is, my late father worked at the Theaker die works in Notts, when going through some off his things i found something with James Walter Theaker on it, I have looked at all the sites of the War Dead, but they all say Walters, a friend of mine says , the clerk might have made a mistake, with the Walter and Walters, he said there was often mistakes and mostly with people with middle names. Is it of interest to anyone.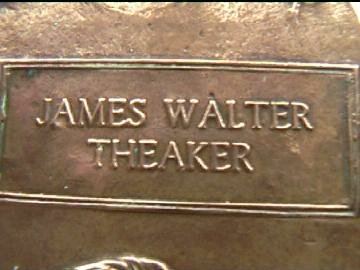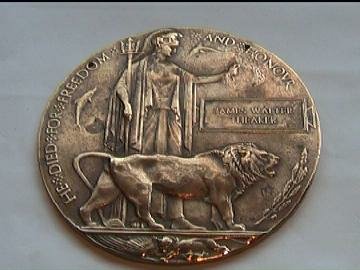 It is a sort of war medal, campaign rather than courage. I can put you in touch with the contact if you feel James may be one of yours.
Email steve@theaker.info and I will pass any info on.
---