This page is dedicated to Benjamin Theaker Parkin MP who is descended from the Belton Theaker line. Ben Parkin is 2nd cousin once removed of Stephen Theaker.
Obituary The Times Thursday June 5 1969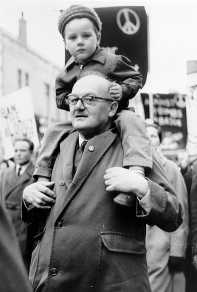 Benjamin Theaker Parkin carrying Nick Parkin
Mr. Ben Parkin

Labour MP who helped expose Rachman

Mr. Ben Parkin, Labour M.P. for Paddington North since 1953, and the man who attacked the Rachman slum empire, died on Tuesday, at the age of 63. Housing was one of his main interests, be he also fought against open prostitution and the drugs menace.

Parkin did much to take the lid of the Rachman case: for years he had to devise ways of being heard in the Commons on property racketeering in Paddington. In 1963 he said: "I can't remember when I first mentioned Rachman's name - long before this present row, anyway. Most of my speeches were either out of order or late at night. I had to devise ways of being heard. It was the only way of calling attention to the sorrows of Paddington."

In May 1963, Parkin withdrew a Commons question asking the Home Secretary what conclusions he had reached from information supplied to him by Dr. Stephen Ward, the osteopath and portrait artist, and what action he proposed to take following recent metropolitan police inquiries "to prevent the increase of expensive call girl organisations". It was in 1963 that he vehemently attacked what he called the "Rachman Empire" in the House, giving numerous examples of what he declared to be Rachman's activities. Rachman, he told the House, took £30,000 on a property in Bryanston Mews which was mortgaged four months before he "disappeared". "Certain factors", said Parkin, "led to the suggestion that Rachman was not dead". Rachman, Parkin maintained, had owned about 20 basement clubs which he leased out, and he called for an attack on certain kinds of property dealing.

An application by Parkin to introduce a private Bill to control slum racketeering was rejected by 208 votes to 140. Parkin said: "Housing conditions in the area of the Rachman empire produced the Notting Hill race riots."

Last year Parkin advocated the introduction of a licensing system for landlords which would shift the onus of improving property or ensuring that it was improved from the local authority to the owner.

Benjamin Theaker Parkin was born in 1906, the son of Captain B. D. Parkin. Parkin, who was destined to play a prominent part in politics was educated at Wycliffe College, Lincoln College, Oxford, and Strasbourg University. He commenced his career as a schoolmaster and became a flight lieutenant in the R.A.F. during the war. He was on the staff of Wycliffe College before he joined the R.A.F.

For some years Parkin was headmaster of the Stonehouse council school, Stroud (Gloucestershire). It was in 1945 that he became Stroud's first Labour M.P., when he gained Stroud from the Conservatives: he had a majority of 949 votes. In 1947 he was one of a number of Labour M.P.s who went to Russia and met Stalin. The following year, with colleagues, he flew to Nigeria to spend three weeks inquiring into the spending of £23m. allocated to the colony under the Colonial Development Act, 1945, and in 1949 he was appointed by the Minister of Pensions as a member of his Central Advisory Committee.

Parkin was one of 64 Labour M.P.s who received a letter from Mr. Maurice Webb, chairman of the Parliamentary Labour Party, and Mr. William Whiteley, Government Chif Whip in 1949, warning them of their conduct towards the Labour Party. This followed the expulsion of two M.P.s and the dismissal of four parliamentary private secretaries for having voted against the Government on the Ireland Bill.

In 1950 he lost the seat at Stroud by 28 votes, and in the 1951 election he lost to the Conservative candidate by 1,582.

When he was successful at Paddington North in 1953 it was by a majority of 2,260.

In 1954, at the invitation of the People's Institute of Foreign Affairs, he and other Labour M.P.s went to Prague, from there to Moscow, and subsequently, to China. The following year he spoke at a Communist organised meeting held in Brussels to protest against German rearmament. A few days later there were clashes with the police outside the House of Commons when demonstrators gathered to lobby M.P.s against rearming the West Germans.

During the sitting Parkin said: "A number of my constituents who have come to see me by appointment are being ridden down by mounted police, driven off the pavement outside the House, and pushed away from the building altogether."

The following year parkin said in the House that he did not realize just how widespread a legend about his borough was until he was in Peking about 18 months before. There, when he stated that he represented Paddington, he was told: "Oh, that is where the church owns the brothels isn't it?" "That legend" said Parkin, "persisted a long time and it was not without a basis of truth." Later he said that what was wanted in Paddington was to get prostitutes off the streets.
Extract from the maiden speech of Mr. David Drew MP (Stroud) 17th June 1997:
"I also pay due regard to the last Labour Member of Parliament for Stroud, Ben Parkin, who served in the 1945 Parliament. On his election, he restored hope and a sense of renewal to the people of Britain after a period of undeserved misery and pain. He went on to represent the interests of his constituents with characteristic commitment and gained widespread respect as a valued parliamentarian. He had a lifelong belief in the need for peaceful international relations, based on a foundation of moral leadership, and in the need for socially useful, productive and fulfilling employment, especially for the young. Those remain laudable objects today, and Ben will be long remembered by many of my constituents for giving a lead to social and moral renewal. London Members will know that Ben went on to represent a seat in the capital for many years and that he is best known for his exposure of Rachmanism."