In Memory of
R B THEAKER
Private
22391
12th Bn., Northumberland Fusiliers
who died on
Tuesday, 23rd May 1916.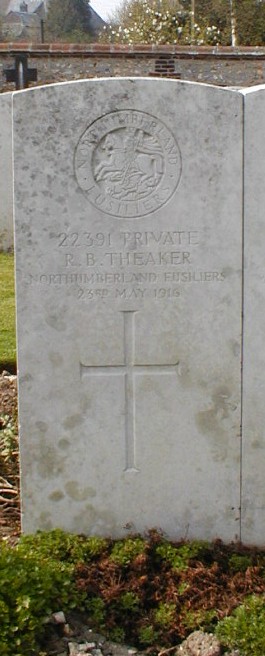 The following information is courtesy of Peter Fellowes, Volunteer Military Researcher. His email address is peter.fellowes@ntlworld.com .
22391 Private Robert Brown Theaker, 12th (Service) Battalion Northumberland Fusiliers
Born Staithes, Yorkshire. Enlisted Middlesbrough, Yorkshire.
Died of Wounds 23rd May 1916. Aged 20 years.
Buried at Boisguillaume Communal Cemetery, Seine-Maritime, France. Grave number I. E 9A.
A couple of points of interest:
1) I have not been able to locate any next of kin details from unit records.
2) Again a soldier with a five digit number, so best guess indications are that enlistment may have been around the mid to late 1915 period, or of course his date of death being well into 1916 there is a chance that he may have be caught by conscription, (started 1st January 1916), but I doubt this was the case and would stick with mid to late 1915.
3) He died of wounds and the more important fact is being buried at Boisguillaume Communal Cemetery, this being in the location of a wide group of medical services. The CWGC records would have you believe that the cemetery was used for the most part from Number 8 General Hospital, this was in part the case. What the CWGC records do not mention was that the cemetery was also used in part, from time to time, by all the other medical services in the Rouen area. The medical services that where in the Rouen/Boisguillaume area at the time R B Theaker would have been treated and died of his wounds were:
No 1 Stationary Hospital
No 3 Stationary Hospital
No 11 Stationary Hospital
No 12 Stationary Hospital
No 25 Stationary Hospital
No 5 General Hospital
No 6 General Hospital
No 8 General Hospital (also known as "The Sick Sisters Hospital")
No 9 General Hospital (Taken over by the American Army 1917)
No 10 General Hospital
No 12 General Hospital (Taken over by the American Army June 1917)
All of these hospitals would have used Boisguillaume Communal Cemetery as well as other cemeteries in the area. So it is impossible, short of looking through all the hospitals admission books, those that survive, to try and locate which hospital R B Theaker was in at the time of his death, all we do know is that he was buried at Boisguillaume.
4) Because we do know that he made it as far back down the line after being wounded as to get to either a Stationary or General Hospital and he died of wounds on 23rd May 1916, you must take into account that he may have been wounded some days before. At the time of his death the 12th (Service) Battalion Northumberland Fusiliers belonged in the following formation; 4th Army, XV Corps, 21 Division, 62nd Brigade. The 12th Battalion did not land in France until September 1915 and the first actions they took part in as part of their formation was the "Battle of Albert" 1st July - 13th July 1916 as part of the opening stages of the "Battle of the Somme" 1st July - 18th November 1916. This was five weeks and three days after R B Theaker had died of wounds. There are no records of the unit being in action before this date so you will have to assume that his wounds were caused not as a direct cause of action but as an indirect cause however still being caused by direct enemy action. Perhaps he was hit by shell splinters whilst in his trench, perhaps he was wounded by a sniper, perhaps the after effects of a gas attack, perhaps the Germans carried out a trench raid on his location one night. You think of it, it could have happened.
The 12th (Service) Battalion was formed at Newcastle in September 1914 as part of K 3 and upon formation they moved to Halton Park to join 62nd Brigade, 21st Division. In November 1914 they moved into winter billets in the Aylesbury area. In May 1915 they moved back to Halton Park and in August 1915 they moved to Witley. They landed in France in September 1915. On the 10th August 1917 they amalgamated with the 13th (Service) Battalion to form the 12/13th Battalion Northumberland Fusiliers. At the end of the war they were based in the area around Berlaimont, France.
During the war the Northumberland Fusiliers gained a total of 67 Battle Honours, 5 members of the Regiment won the Victoria Cross and the total casualties for the regiment between August 1914 and November 1918 was 16,000 men killed, wounded or missing.
From a pre war establishment of 2 Regular Battalions, 1 Reserve Battalion and 10 TF Battalions, by the end of the war they had raised a total of 51 Battalions for war service.
There is a Museum:
The Northumberland Fusiliers
Fusiliers Museum of Northumberland
The Abbots Tower
Alnwick Castle
Alnwick
Northumberland NE66 1NG
Commemorative Information
Cemetery:
BOISGUILLAUME COMMUNAL CEMETERY, Seine-Maritime, France
Grave Reference/
Panel Number:
I. E. 9A.

Location:
Boisguillaume is a district about 5 kilometres north-east of Rouen on the main road to Neufchatel. Follow the road to Neufchatel/Abbeville on N.28 and turn left into Rue R J Lambert then turn twice right after the church into Rue De La Mare Des Champs. The Communal Cemetery which contains the two First World War plots lies on the left hand side of this road. The first CWGC signpost is on the road to Neufchatel at the street corner - near the Town Hall Mairie.


Historical Information:
Two plots in the Communal Cemetery were reserved for British burials from September 1914 to March 1917. They contain 160 double graves. These plots are on the South side of the central French monument, and are surrounded by civilian graves. They are raised above the level of the Cemetery and bounded on three sides by a low retaining wall. The burials took place for the most part from Number 8. General Hospital, which was quartered at Boisguillaume in a large private house and grounds. Twenty-six burials in plot II. are of soldiers killed in a railway accident on the 14th February 1917. There are now over 300, 1914-18 war casualties commemorated in this site.