This is my personal tribute to a man with a very generous spirit.

Out of the blue, in February 2002, Douglas telephone me. His great nephew had found my site on the internet and had printed out a few pages for Douglas. Douglas used the information to track me down by phone because he was not on the Internet. At the time of his getting in touch Douglas already knew that he was very ill and that his time was short.
Douglas invited us over to his home in Wombwell, a house that has been in his family ever since his grandfather built it and the adjoining properties at the end of the 1890s.
Douglas also arranged for his nephews, Ken and James, and another cousin he had recently met, Thelma to be there. Also there were Kay, Ken's wife and Margaret, James' wife and James' children.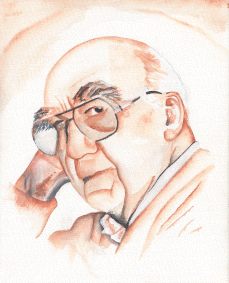 Portrait of Douglas Theaker
Click on pic to hear Douglas
When we arrived we were treated like royalty. We all got on very well together and have seen each other in different combinations a few times since.

Douglas passed away at the end of July, 2003. We had seen him a fortnight before and though he was obviously very ill and in pain he remained a proud man and insisted that he walked to his car rather than have Barbara bring it to him. Doug's zest for life and his energy to the last are an inspiration to us all. During the short time we knew him we became very fond of him and whilst we are pleased to have known him we very much regret not having known him for much longer. He opened his home to us, he took the time to do family research for me, to visit ancestral sites and take, then print, photos of these sites - this is all in addition to imparting his family knowledge. Douglas also took the time to record some of his life on tape for me. The tape is not just about family but about life in the times that he grew up in. It is in parts funny, in some parts sad. Barbara has told us that he was driving her mad wanting to add things to the tape, he may well have been able to talk forever about his life but I think the tapes he made struck just the right balance and I enjoy them very much.
Perhaps the greatest gift he gave us is the new friends we have.
Thank you for letting us share your life Douglas.
Steve, Sylvia and Lisa